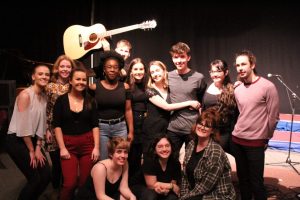 Hiya! I hope you are enjoying your Easter break ! Here's a blog post on why I chose to study Law at UCD ! Hope you enjoy it !
Why did I choose UCD?
I chose UCD because it is colourful! I remember visiting UCD when I was still in fifth year, I was honestly enchanted by the buildings, the architecture and the colours. I loved how lively the campus was. I remember saying to anyone who would listen that "You can practically live on UCD Campus." It's actually true !
I also chose UCD because it was the best of the best. I am extremely competitive (in case, you haven't noticed) and I come from a family where striving for excellence was not an option. After looking through the rankings for Ireland at the time of my Leaving Certificate, I knew that I had to go to UCD. It didn't just have the reputation of excellence but it had the statistics, amazing facilities and wonderful people to back it up.
I'm Nigerian-Irish, so diversity is everything to me. Going to university can be such a giant step. You'll be in the same place for the next four years of your life. Kinda like secondary school BUT this is your choice. I wanted to choose a place that I could fit into. A place where I could feel like I belonged. A place that encouraged me to be my multi-cultural, multi-lingual self.  With over 8,000 international students, I knew UCD would provide the space I need to find myself while exploring different cultures and meeting new people.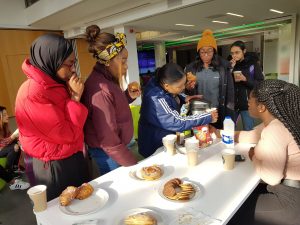 Did UCD meet my expectations?
Attending UCD as a Law student has met and exceeded my expectations! It has opened up doors and opportunities for me. It has given me the opportunity to grow as a student and as an individual.
The modules offer a real-world perspective of the law and how it interacts with the various aspects of the globe e.g. business, finance, the environment. The style of teaching here at UCD provides the opportunity for students to apply what we learn in the lecture hall to our daily lives. Whether it be getting refunds for a defective product or signing a tenancy agreement or developing your research skills, doing a Law degree in UCD has equipped me for all those things. Additionally, studying Law in UCD gave me the opportunity to go on the Corporate and Commercial Law Trip to London. During this trip, we visited seven of the top law firms in London including Magic Circle firms such as Clifford Chance, Slaughter and May and Freshfields Bruckhaus Deringer.
As well as this, through studying in UCD, I have developed my potential and pursued my passions. For example, in my second year, I founded the UCD Gospel Choir in partnership with UCD Music Society. The choir now has over 40 members and we have performed at various events such as the UCD Open Day, the DCU Gospel Choir Concert and the SVP Fundraiser. Furthermore, I was also able to take on the role of International Students Campaign Co-ordinator. Through this role, I was able to represent the thousands of international students that attend UCD every year, organise coffee mornings and introduce various initiatives that would improve their overall experience of life in UCD.
Studying at UCD has prepared me for the world of work whilst enabling me realise my potential, develop my skills and create a positive change on the UCD Campus.
Why UCD is absolutely amazing?
The Student Life in UCD is spot on ! We have a very large campus which means that apart from the Smurfit Business School, all of your lectures will be in the same place. There will be no need to commute from one class to another. The gym in UCD is also on campus ! Although I visit it once in a blue moon, it has great facilities and an Olympic-sized swimming pool. Our sport teams are also among the best in the country. We also have a radio station, a cinema and a grand piano on campus. AND we have three lakes. Not one, not two, but three lakes !
The transport system is wonderful! UCD is served by almost 40 Dublin Bus routes so it is easy to get to and from the university. I have commuted since first year and it has not been difficult for me to get into university or return home.
Finally, with almost 90 societies and over 50 sports teams, there is something for every single UCD student.
The UCD campus is inclusive, motivating and exciting ! UCD is the place to complete your studies and I am so glad that studying law at UCD is one of the choices that I have made.
Love and peace,
Grace