Brendan, PhD student UCD School of Archaeology (IRC Scholar) explains what it is like to work in the Centre for Experimental Archaeology in UCD
UCD's Centre for Experimental Archaeology and Material Culture had a very simple question; what did houses in early medieval Ireland actually look like? What I mean by this is roundhouses that stood in the middle of ring-forts (or raths) where most people lived in this period. These are the wooden wattled structures with the high, thatched roofs in so many primary school history books. You might think that this would be easily answered by simply Googling something like 'Irish Roundhouses' and yet all the drawings and pictures of replicated structures share the same issue; I can't find them in the archaeological record. As a result we decided that the only option was to take on the challenge of building our very own roundhouse in UCD from scratch.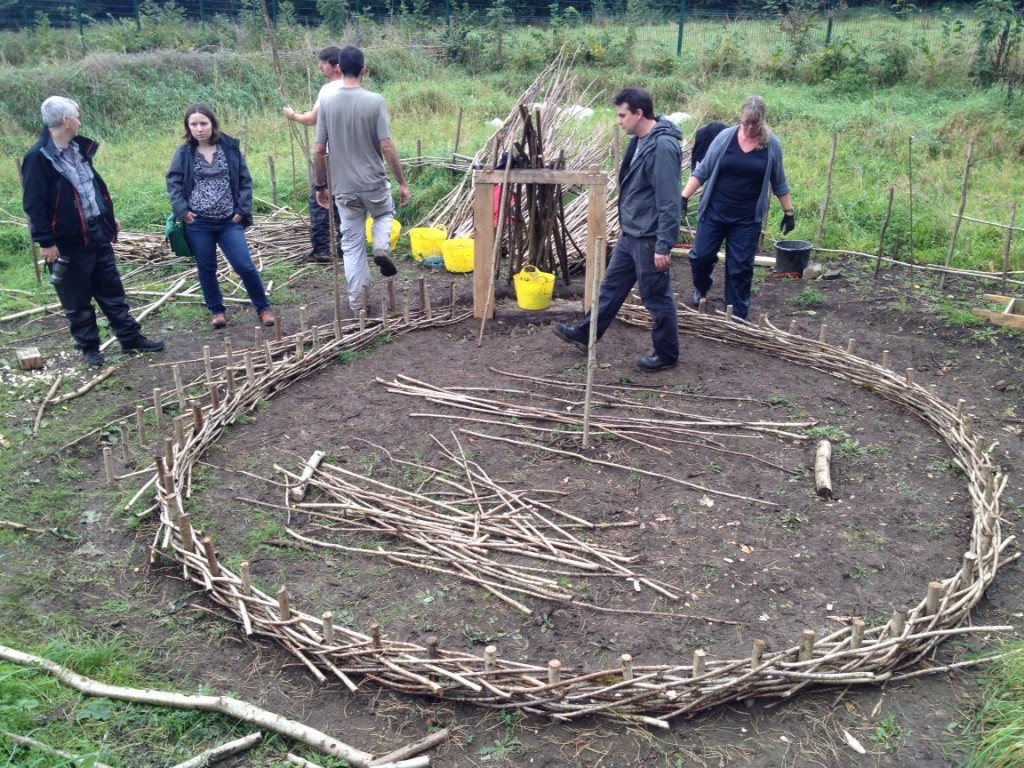 A very very small door
To do this we looked at archaeological excavations from all over the country to see what evidence we had. Sites such as Moynagh Lough in County Meath and the excellently preserved Deer Park Farms in County Antrim show the main structure was made from long, thin rods of carefully positioned (or wattled) hardwoods. The doors were small (very small) and the roof, instead of our usual impressions, was actually a domed extension of the walls, kind of like an up-side-down basket.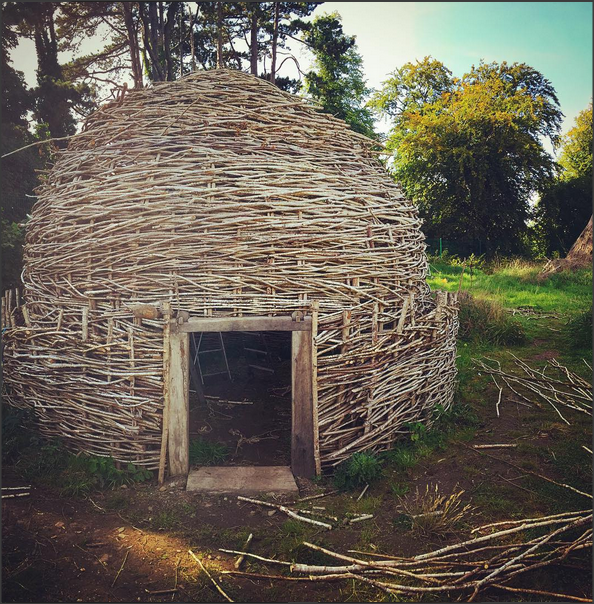 The wattle dome completed Just like an upturned basket
Beginning to build the house was a daunting prospect and even deciding where to start was a challenge. But start we did and together with our energetic team of volunteers from the UCD undergraduate, postgraduate and postdoctoral communities (thank you all so much!!) the house began to take shape. First, the lower walls were built straight up to just above the doorframe. Then the walls began to curve inwards to form the structure off the roof. With the dome complete, it was thatched with some beautiful freshly cut heather from Roscommon, similar to the roundhouses of Antrim over 1000 years ago.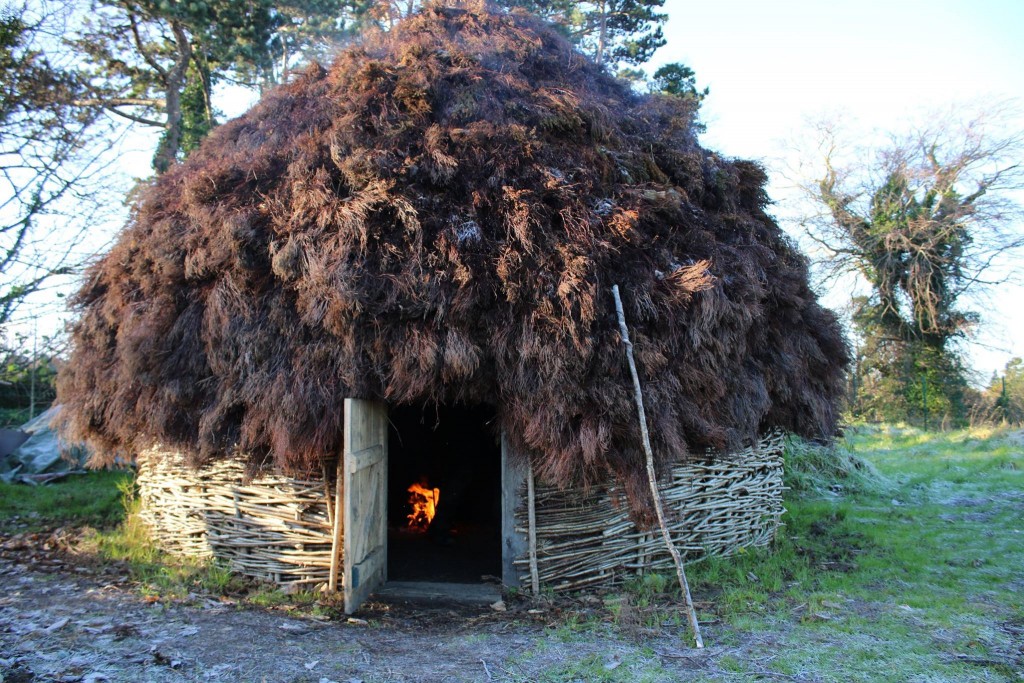 The finished roundhouse
When we were finished it was combination of relief and joy. As we were trying something that had not been attempted in close to a millennium, there was always a chance of failure but just seeing it standing there justified all our efforts. It also brought all those who helped build it together by offering a real hands-on sense of shared purpose and ownership. By engaging in this project were rewarded by being able to say 'we built this'. This partnership didn't end with those directly involved though. Owing to its location, the roundhouse was visible to anyone passing by on their lunchtime jogs or just walking the dog. Many of these people became regular visitors to the Centre, keeping a close eye on our progress throughout.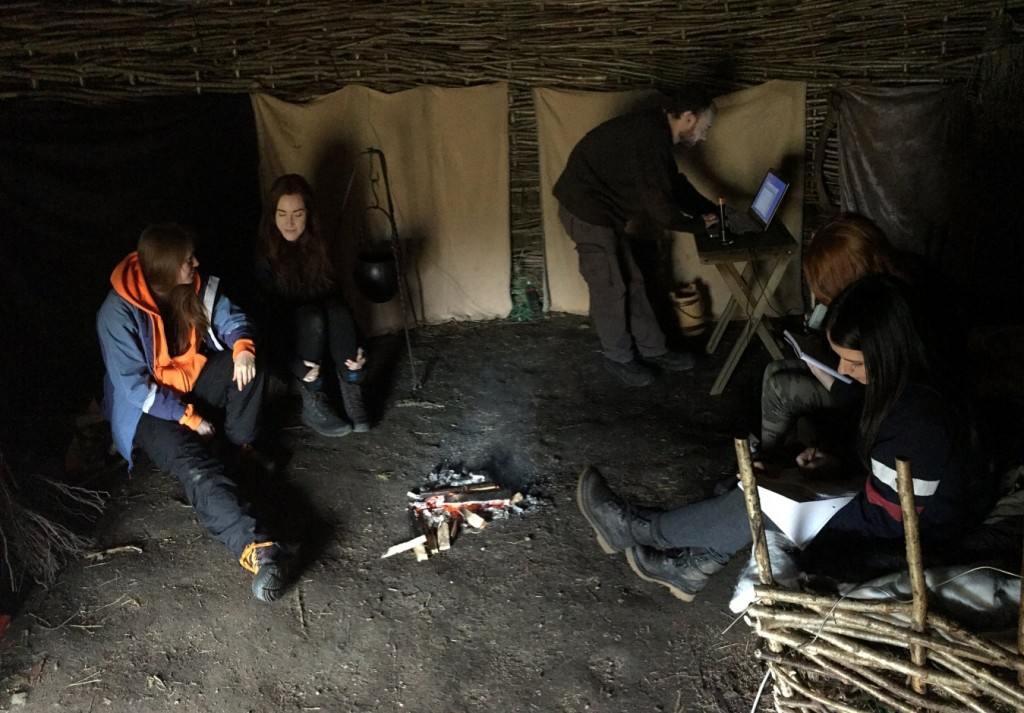 MA students conducting experiments on living conditions in an early medieval house
With the roundhouse finished and our data on the construction collected, the real fun could begin. Since its completion in October 2015 the roundhouse has been a wonderful addition to UCD's woodland campus walk bringing in visitors from national schools, secondary schools, national state bodies, UCD classes and students visiting from other universities. It has also provided the perfect setting for students of the School of Archaeology to learn in as part of their modules in Experimental Archaeology and Material Culture. Having experienced the rewards that this kind of engaging exploration of our past can offer we now have a new question; what can we build next? A Dublin type Viking house is now underway and we are using these spaces to experiment with ancient food, pottery, weaving, bronze casting and much more so come join us and join in.

If you want to find out more about Archaeology in UCD visit www.ucd.ie/archaeology for more information.