Business & Law Student Shane Clune discusses the Student Legal Service and how UCD students can get involved with the society
The Student Legal Service is one of the two societies based in the Sutherland School of Law. It was founded 13 years ago with the aim of providing UCD students with free legal information but has since branched out to offer plenty of opportunities for students across the campus.
The mainstay of the society is of course the biweekly free legal information clinics, at which we help students with their legal difficulties. Every September we run training sessions for our volunteers focusing on four key areas; Clinical Skills, Employment Law, Landlord and Tenant Law, and Consumer Law. These sessions are delivered by barristers or lecturers who specialise in these fields and aim to provide our volunteers with a comprehensive understanding of the practical application of that area of law. At our biweekly clinics we deal with all sorts of legal queries; we've had patent applications, landlord disputes, employer issues, and warranty breaches, to name but a few.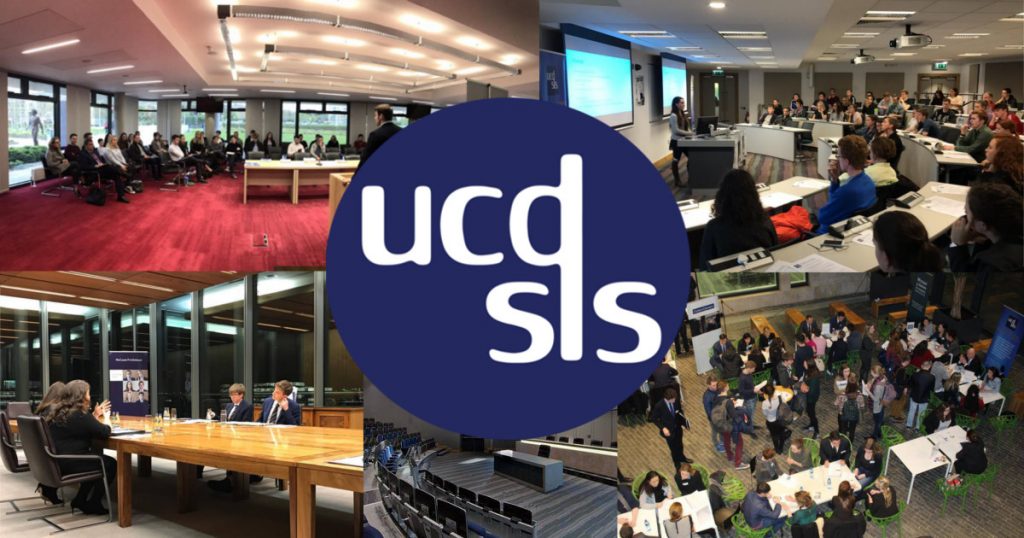 The SLS also provides students with opportunities to learn valuable skills that they can then transfer to the workplace. Our Negotiation Competition, which takes place in the first semester, is routinely a highlight of the college competition scene, and helps students to develop their communicating, planning, strategic thinking, and yes, negotiating skills.  Competitors work as a team of two on behalf of a fictional client, negotiating a favourable deal against another team. Past scenarios include start-up investments, celebrity divorces, corporate mergers, and product liability cases, and are routinely the talk of the law school. Furthermore, we've also started running a Case Competition; here teams are given a legal scenario from a client and are tasked with devising a solution for the problem and then presenting this to a panel of judges.
The Student Legal Convention is an invaluable opportunity for students to develop their organisational skills. It's a day-long event hosting discussion of current and contemporary legal issues and has previously seen discussion of some seriously interesting topics such as Blockchain technology, reform of planning law in Ireland, and dare I say it, Brexit. Law B&L Day is another opportunity for students to get involved in organising an event for the law students; it's the school's annual charity day and all law classes are cancelled so that students can raise money for charity. Typically, it involves bucket collecting in the morning, a tag rugby tournament in the afternoon, and a night out in the evening, and in the past, we've raised over €10,000 for various charities.
The society also runs various careers-themes events, aimed at introducing our members to their prospective employers. We run a speed-networking event with some of the more boutique firms every spring, providing students with the opportunity to obtain internships of traineeships in firms that specialise in areas such as criminal law, or human rights law. This is in conjunction with the various employer-led talks and workshops that we host throughout the year.
Finally, the society is responsible for editing the annual SLS Publication. This is a student led legal publication, in which students can write an academic article about a legal topic that interests them. In the past, themes for the publication have included "Ireland and the European Union", a student guidebook on the law in practice, and an in-depth look at constitutional law in Ireland, all of which have received critical acclaim. Indeed, this year's theme, "Legal Reform", promises a wide variety of interesting and thought-provoking articles.
In a nutshell, the Student Legal Service provides opportunities to give back to the UCD community, to develop your legal skills, and to have fun at the same time. I hope I've piqued your interest in the society, and we hope to see you at the fresher's stand next September!