Current 2nd year Veterinary Student Tharsicaa shares a look at her second year of Graduate-Entry Level Veterinary Medicine at UCD.
As you enter your second year of veterinary medicine you are filled with joy that you have successfully completed a quarter of your degree in the Graduate-Entry Level Veterinary Medicine program here at UCD. It becomes more exciting as an international student that you'll soon be halfway through the program. It doesn't take long before you are occupied with hours of lectures, home practice, studying and exams. However, before you know it you're once again happy to have successfully completed another year, bringing you closer to your dream.
Second year of the Veterinary Medicine program is quite labour intensive with lectures in pathobiology, animal welfare and professional skills. It is new to the program to incorporate a professional skills course in each of the program years as opposed to the previous structure of only one course in your first year. You may find this course to be more easily managed than the rest but it is equally vital to your education. As you enter the working field you will interact with people and animals of all kind and it is essential to know how to effectively communicate and conduct yourself around others. This series of professional skills courses allows you to build on those skills and practice encountering different situations before you enter the working stream. The course also includes a Simulated Clients Communication Skills Workshop where actors will come in and act out different client personalities or situations. At this workshop you will have the opportunity to take a brief clinical history of the patient while communicating and interacting professionally with the client and ensuring to create a positive clinical experience for yourself, the client and the patient. This workshop is designed to give you insight and preparation for when you begin your Clinical Extra Mural Studies placements.
One of the more difficult courses to your second year will be the newly combined Pathobiology module that consists of veterinary pathology, microbiology and parasitology. It is a hefty course load but the content is fundamental to your career as a Veterinarian. In this module you will learn about common clinical findings in all three subject areas and develop an understanding on how to diagnose, differentiate and treat these cases. The lecture material is complemented with laboratories that allow you to see first hand what you may encounter in the real world – this includes cases on identifying different internal and external parasites, bacteria and viruses. You get the opportunity to conduct full diagnostic workups in your microbiology labs and also understand and recognize various immune and tissue responses in your pathology labs.
In your second half of the year you will begin a lot of the more clinically based modules including introductory courses to clinical medicine and surgery, the hemolymphatics system and the respiratory and cardiovascular systems. In previous modules, you would have come across these topics but now is where you will begin to obtain a more in-depth understanding to these systems. It becomes exciting to learn and begin to practice and apply medical and surgery techniques. There is no doubt that from the first day you learn basic suturing techniques you will spend endless days practicing for years to come to better improve yourself.
At the end of your second year, you will undergo your module examinations and your Pre-Clinical Extra Mural Studies examination at the UCD Lyons Research Farm. This is to ensure that you know the basic handling techniques and can perform them in a safe manner before you move on to your clinical placements. It also acts as an opportunity to demonstrate your basic knowledge on each of the species such as identifying its age and breed, routine husbandry and management aspects, features and important landmarks to the species etc. This is your entryway into your Clinical EMS placements where you will then go on to shadow a veterinarian and expand your learning in a clinical setting.
Your second year is not only about labs and lectures. You will also look forward to the halfway dinner where students and professors will come together to celebrate your success in approaching the halfway mark of the program. It usually entails advice and stories from your professors in a relaxed setting over dinner and drinks with a chance to celebrate one another's achievement in reaching this point. Before you know it you'll be preparing yourself for your much anticipated third year white coat ceremony.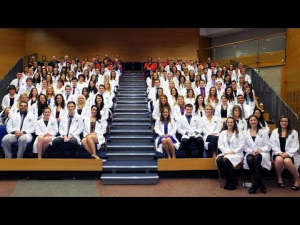 While it may seem difficult to get through your second year, there are endless resources including office hours, peer learning study sessions, library resources and the endless support and advice from the lovely Niamh Nestor, our student advisor. Despite its relative difficulty, the knowledge you gain from your second year will act as a foundation and platform to everything else you can expect to learn in the upcoming years. Your second year really is where you begin to imagine yourself as a Veterinarian.
You can find out more information about studying in UCD by visiting the MyUCD website here.