This week, Final year veterinary medicine student, Evie Orchin Moloney talks about a week out with UCD Veterinary Hospital's Equine Field Service team and working in the UCD Veterinary Hospital's equine yard.
I began my final year rotations back in September and it's been a really busy few months of working in the UCD Veterinary Hospital! As part of our Equine Clinical Medicine rotation, each group spends a week on the road with the Equine Field Service team and a week in the equine yard of the veterinary hospital.
Equine Clinical Medicine
My first week was in the equine yard, with a busy first morning as we each sat an entrance quiz for the rotation. That completed, we moved on to the clinical aspect of the rotation where a combination of tutorials, practical demonstrations and managing hospital cases gave us a great insight into equine medical case management. Tutorials during this week covered topics such as blood sample analysis, how to effectively manage a medical case of colic (and how to decide if it needs to be surgically referred), management of laminitis (a very common and painful foot condition which can affect horses and donkeys) as well as how to effectively communicate with equine clients during the workup of a clinical case.
This was a tough but very rewarding week, with early starts each morning, we were in at 7:30am (or earlier depending on how many cases we had) most mornings to ensure that all of our patients were checked, monitored and given all their necessary medications before yard rounds discussions began at 9am with the Clinicians. This teaches the importance of effective teamwork and communications, as many of the horses required two or three people on hand to assist with giving medications and managing their comfort levels. As part of this, we were tasked with ensuring each patient received the correct diet to optimise their recovery, so this included nutrition discussions and some grass picking adventures!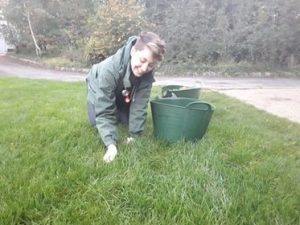 Throughout the week, we followed the workup of cases admitted to the UCD Veterinary Hospital and discussed the best treatment protocols and management strategies for each case. Following each of these cases allowed us to see a variety of diagnostic techniques used in the equine medicine world, including gastroscopy (passing an endoscope into the stomach to diagnose problems such as gastric ulcers), radiograph (x-rays) of limbs as an aid to investigating lameness, and even how to do an Electro Cardiogram (ECG) to monitor a horse's heart function.
On the Friday of our hospital week, we also visited UCD Lyons Farm where we practised essential clinical skills such as ultrasound, vaccinations, how to carry out a pre-purchase exam and passport marking and microchipping. These are vital day one competencies as a new graduate vet, so will come in very useful next year when we venture out into the world of work as vets!
The Equine Field Service (EFS)
This was very possibly my favourite week of rotations so far! For this week we joined the Equine Field Service team of UCDVH vets on various calls and yard visits throughout Dublin and the Greater Dublin Area. The EFS week is known to be a very hands-on week, and a great opportunity to get lots of practical experience, and we certainly were not disappointed!
On Monday it was another early start to get the Hilux jeep fully stocked and ready for a day of calls. Dental equipment packed we set out on our first call of the day where the EFS vet demonstrated how to perform a dental physical exam on horses including safe handling. We each got to have a go of doing a physical exam and reporting back our findings and planned a course of treatment.  We had our dentistry theory lectures back in third year, so it was great to brush up on our knowledge and put some of the theory into practice.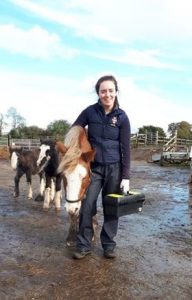 Throughout the week, we visited several animal charities, including the DSPCA (Dublin Society for the Prevention of Cruelty to Animals) and My Lovely Horse, where we got to carry out clinical exams, health checks and passport markings. Along with this, we also got the opportunity to practice our clinical history taking skills, working up a problem list and communicating with clients the best protocol for treatment/ management of their horses. The Equine Field Service was a wonderful opportunity to experience the world of veterinary medicine beyond the horse yard and allowed us to further hone skills we had learned throughout our clinical work placement (CEMS) the past two years of the veterinary degree and has left me excited for the rest of my rotations to come this year!
Find out more information about the wonderful work My Lovely Horse Rescue do, sponsor an animal or find out more details about rehoming/ fostering options here https://www.mylovelyhorserescue.com/
For more information on studying Veterinary Medicine in UCD, check out myUCD.
Why not come on a campus tour of UCD and check out the Veterinary Sciences Centre for yourself – just book in here.